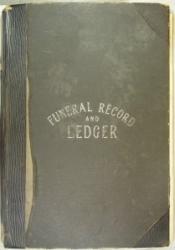 Richard (Dick) Corless came to Prince George in 1913 from England, where upon he became an undertaker and a car dealer. He operated his funeral home business at the corner of Quebec and Fourth Avenue in Prince George. All of the funerals that he performed were recorded in a ledger, including deaths by the influenza pandemic of 1918. Mr. Corless transferred his business to Assman's Funeral home in 1931 and his ledger remained with a family member who subsequently donated it to the BC Archives.
The Prince George Genealogical Society became aware of the ledgers' existence, and a member viewed it in the BC Archives in Victoria. In July 2007 the Corless Ledger, was transferred from BC Archives to the Northern BC Archives and Special Collections at UNBC. Subsequently, this ledger was digitized and these images were lent to the Prince George Genealogical Society for transcription.
This funeral ledger consists of significant information on deaths in Prince George, BC, from the years 1916 to 1931. The ledger contains personal information regarding individuals who have died, including their name, cause of death, age, residence, ethnicity and the date of their death. The ledger also contains information regarding payment for caskets or other funeral arrangements.​